Every Drop Matters
Rise in population along with rapid urbanization & industrialization has put severe pressure on available water resources. It is estimated that world could face a 40% global water deficit by 2030 under BAU scenario.
India is also facing acute water stress. Per capita availability of water has been falling continuously at an alarming rate. It has fallen down from ~5000 Cu.m in 1950 to around 1500 Cu.m in 2020. If it declines further to around 1,000-1,100 Cu.m, then India could be declared as water-stressed country.
Water crisis is looming large. It is time to give water a serious thought. There is need to save every drop of water because each drop matters.
Mine Water utilization – A successful way to reduce the water footprint of mining
In the process of coal mining, huge volume of mine water gets collected in mine sumps and subsequently pumped out to surface. By application of appropriate treatment methods, the available mine water may be used for drinking/irrigation purposes.
Coal companies are doing commendable job in gainful utilization of mine water – both from active and abandoned mines. This endeavour is in line with the Jal Shakti Abhiyan for water conservation campaign initiated by Government of India.
Accumulation of Mine Water– How it happens?
• In UG Mines - Mainly due to cutting of aquifers
• In OC mines - Cutting of aquifers as well as rain water runoff
Two Sources of Mine Water
• Running Mines: Accumulated water is pumped out for continuation of mining
• Abandoned UG mines and OC Voids
General quality of mine water in coal mines
• General quality is good and suitable for domestic and irrigation purposes after minor treatment: Sedimentation – Filtration-Disinfection – as per requirement as per nature of use.
• As Indian Coal is not associated with pyrite, cases of Acid Mine drainage are absent barring few exceptions. In some mines with acidic mine water – properly treated and also the system of Zero discharge is maintained.
• Occurrence of trace elements/heavy metals beyond permissible limits – rarely found.
Monitoring of Mine Water Quality
• 6 parameters are monitored fortnightly – pH, Total Suspended solids (TSS), Total Dissolved Solids (TDS),     Chemical Oxygen Demand (COD), Biochemical Oxygen Demand (BOD), Oil & Grease.
• All 33 parameters of water quality prescribed by CPCB is monitored annually.
• In addition, the quality of mine water supplied for domestic purpose is checked at regular intervals.
Avenues of Mine Water Utilization
Water pumped out from mines is passed through settling tanks and is used for various purposes:
• Industrial use by the coal company – Dust suppression, Plantation, Fire Fighting, Washing of Machineries, Water sprinkling in UG workings etc.
• Domestic Use in colonies and offices of coal projects – after appropriate treatment.
• Community supply for domestic and irrigation purpose – Both departmentally and through MoU route with State Government.
• Supply to other industries (WCL supplying to MAHAGENCO, NLCIL to its TPPs).
• Supply to Municipal corporations (BCCL to Dhanbad Municipality, NLCIL to Chennai).
• Creation of water parks/water sport sites/Picnic spots in abandoned OC Voids.
• Fish-farming in abandoned mine voids.
• Bottled water supply (WCL selling Coal Neer).
• Ground water recharge.
Status of Mine Water Utilization as on 31.3.2022 (CIL + SCCL + NLCIL)
 • Cumulative Volume of mine water supplied for community purposes has been around 16,012 LKL during FY 2018-19 to FY 2022-23. Volume of mine water supplied for irrigation purpose has been 10762 LKL and for domestic/ drinking purposes has been 5250 LKL.
• Mine water supply by coal/lignite PSUs for community use was 3730 LKL (Lakh Kilo Litre) in FY 2022-23.
• In FY 2023-23, more than 17.70 lakh population spreads across 981 villages of 9 States have been benefitted by domestic/drinking water supply. Also, irrigation potential of about 2.53 lakh acres has been created by for gainful utilization of mine water.
• Potential created in FY 2022-23 for 59.5 Lakh People to use mine water for domestic/drinking purpose.
Coal/Lignite PSUs has set target of 4250 LKL for FY 2023-24 to ensure gainful utilization of mine water for community use – drinking as well as irrigation purpose .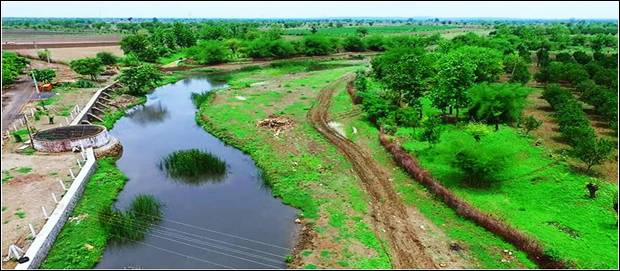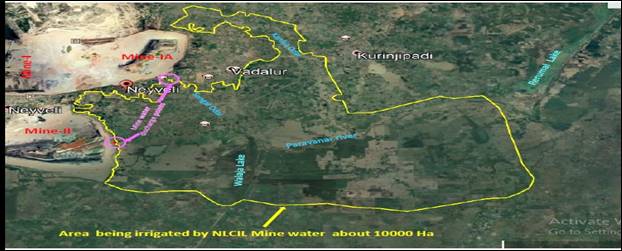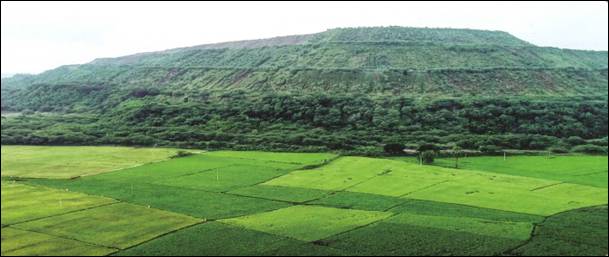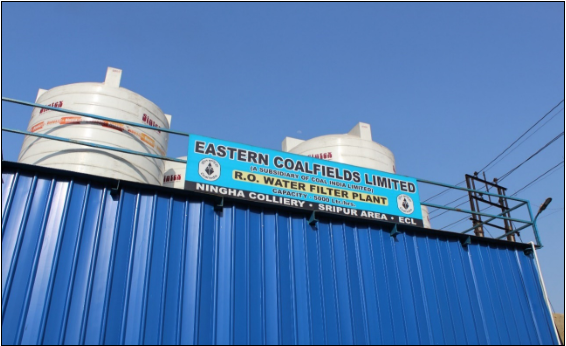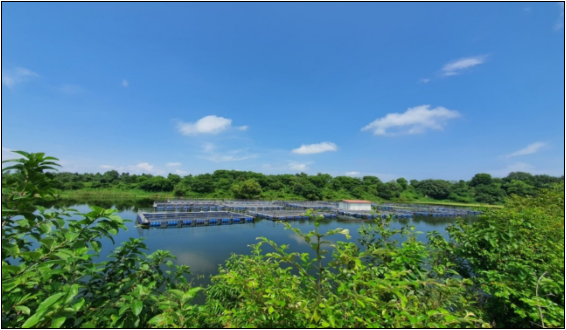 Plan for enhanced community water supply - 5 Year Vision Document
It is planned to enhance the total community water supply to 4250 L Cu.m. in 2023-24

Total Irrigation potential creation – 3.20 Lakh Acres. ( considering 40 Ha/L Cu.m considering 3 cycles of irrigation of 6.35 cm water depth each for CIL & SCCL and 54 Ha/L Cu.m for NLCIL).

Drinking/domestic water supply potential – 45 lakh people.
Community water supply – MoU with State Government/Best Practices
Coal companies have entered into a MoU with respective State Government for community water supply. Under the MoU, responsibility of providing raw mine water at surface reservoir lies with Mine Management. Whereas, the responsibility for filtration, operation, quality control and distribution falls in the domain of State Government.
MoU covers both running and abandoned mine voids. The running mines/abandoned sites have been identified and Schemes of Mine Water Utilization is being prepared by State agencies in consultation with coal companies.
•    MoU between Jharkhand Govt& CIL - Utilization of mine water by villages situated in the command area of CCL, BCCL and ECL.
 •    MoU between West Bengal Govt& ECL - utilization of mine water by communities for irrigation purposes.
•    MoU between WCL & MAHAGENCO - To provide mine water to MAHAGENCO power plants located near mines of WCL.
•    MoU between WCL &Vidarbha Irrigation Development Corporation - Providing surplus mine water to VIDC from mines of WCL .
•    MoU between Chhattisgarh Govt& SECL – Supply of Mine Water to PHED, Water Resource Department & other govt agencies.
•    NLCIL supplying mine water to Chennai Metro Water Supply Scheme – Supply of mine water from Veeranam lake to Chennai.
•    In SCCL, the excess mine water is discharged to nearby tanks for community use (drinking and irrigation)
NLCIL supplying Water to Chennai Metro
Water from the mine is conveyed to Metropolitan department, Chennai through 200 Km pipe line for drinking purposes. Two pumping stations supplies approximately 19611 KL/Day to Chennai and this supply does a great help in meeting the water demand particularly in Summer.
Bottled water supply by WCL – Coal Neer
RO Plant (10,000 litres/hour) has been installed at Patansaoungi UG mine located in Saoner Area, Nagpur District, Maharastra. The treatment plant includes the stepwise process of sedimentation, filtration through slow sand filter & processing through RO plant, followed by UV treatment.
In addition to it, packaged drinking water "COAL NEER" is introduced with installation of RFC Bottling Plant (capacity: 15000 Bottles per day). The BIS & FSSAI certification was secured for the Packaged Water Drinking Water
COAL NEER is being consumed for Internal Use in First phase and will be provided to Government offices in 2nd Phase. Coal Neer is proposed to be sold @Rs 7/- and @Rs 10/- for 500 ml and 1 litre bottle respectively.
WCL supplying water to Mahagenco
WCL has entered into a MoU with MAHAGENCO for providing excess mine water of quantum 107.6 Lakh Cum/year from Bhanegaon OCM to meet the industrial water demand of Kaparkheda TPS. Earlier, this water demand of TPS was being drawn from Pench irrigation Reservoir. Now, the saved water from Pench reservoir is being utilized to meet the increasing water demand in Nagpur city. 
Pissiculture / Floating restaurant /Boating in an old quarry of SECL
The above facilities have been created in an abandoned Quarry no. 6 of Bishrampur OC of SECL in Surajpur Districtof Chhattisgarh in water filled area of about 26 acres. Developed by Chhattisgarh state fisheries department and amount of Rs. 197.00 Lakhs provided from Mine Closure fund by Bishrampur Area. Facilities provided are Pissiculture Cages – 32 Nos, Floating Restaurant – 1 No., Motor Boat – 2 Nos. and Floating Rafts.
The entire set up has been handed over by district administration to nearby villagers Self Help Group for running and maintenance. Provides livelihood for about 30 - 40 persons of nearby villages. Good amount of fish (Pangash) coming out on regular basis (800 quintals/annum) for commercial sale. Earning also accrue from boating, floating restaurant and other water sport.
The site has also become a popular tourism/boating site for surrounding people and about 100 tourists on an average, visit this place daily.